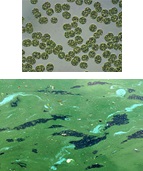 Issues :
The presence of toxins (cyanotoxins and mycotoxins), neuro or hepatoxic in the environment or in the food can cause an acute intoxication (possibly leading to death) or can have an impact on the longer term on human health.
Need to assess human exposure to these toxins = significant analytical challenge because:

physico-chemical properties (polarity, structures)
toxins present

at low concentrations level (trace or ultra trace level)
in complex samples

Need to introduce a step of preconcentration and an efficient sample purification prior to their analysis
Current developments: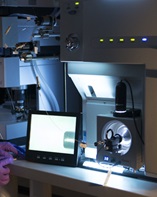 Solid phase extraction coupled or not on line with the LC/MS to allow monitoring of these toxins in water, food or directly inside the producing organism in order to allow the elucidation of their biosynthetic pathway.
Methods of selective extractions specifically for a single compound when it requires a targeted approach : synthesis of a selective phase based on molecular recognition : MIPs, immunoadsorbents or aptamers.
Collaborations : ANR CESA BMAALS 2011-2015, ANR Mycodiag
Recents publications :
β-N-methylamino-l-alanine / brain tissues, Combes A et al. Anal Bioanal Chem 406(2014) 4627–4636
β-N-methylamino-l-alanine / environmental samples / Validation, Combès A, et al. (2013) Anal Chim Acta 771 (2013) 42–49
Oligosorbents / ochratoxin A / wheat extracts, Hadj Ali et al. Anal Bioanal Chem 406 (2014) 1233–1240
Immunoextraction / hybrid organic-inorganic monolith/ microcystin-LR, Brothier F et al. Anal Chim Acta 792 (2013) 52–58
Dihydroanatoxin-a / LC-MS, Mann S, et al., Toxicon Off J Int Soc Toxinology 60 (2012) 1404–1414
Cylindrospermopsin and 7-epi-cylindrospermopsin, Mazmouz R et al., Chembiochem Eur J Chem Biol 12(2011) 858–862
Aptamers / ochratoxin A / red wine, Chapuis-Hugon F, et al., Anal Bioanal Chem 400 (2011) 1199–1207
Molecularly imprinted polymers / mycotoxin / cereals, Hadj Ali W al., J Chromatogr A 1217(2010)6668–6673